If you haven't heard of Good & Lovely and you are a woman, you're missing out. We all know that our "time of the month" is the biggest drag. It's really the only thing I don't see as an advantage of being a woman. Good & Lovely is a monthly subscription box that costs $13.99 a month and it filled with practical and uplifting items to help make that time of the month not so unbearable. Because Good & Lovely if for YOUR cycle, you choose when you would need this box delivered and if that date ever chances, you just let them know! They understand it's out of your control 😉
Good & Lovely comes in a cardboard rectangular box that is filled to the top with natural, cruelty free and eco-friendly foods. The top is stamped with their name.
When you open the box, you are greeted with "hello beautiful" and a lovely white and purple inside. I love that they did the inside in a soft lavender. It's very soothing.
This card made me fall for Good & Lovely! It reads, "Beauty is in the eye of the beholder and it may be necessary  from time to time to give a stupid or misinformed beholder a black eye." -Miss Piggy.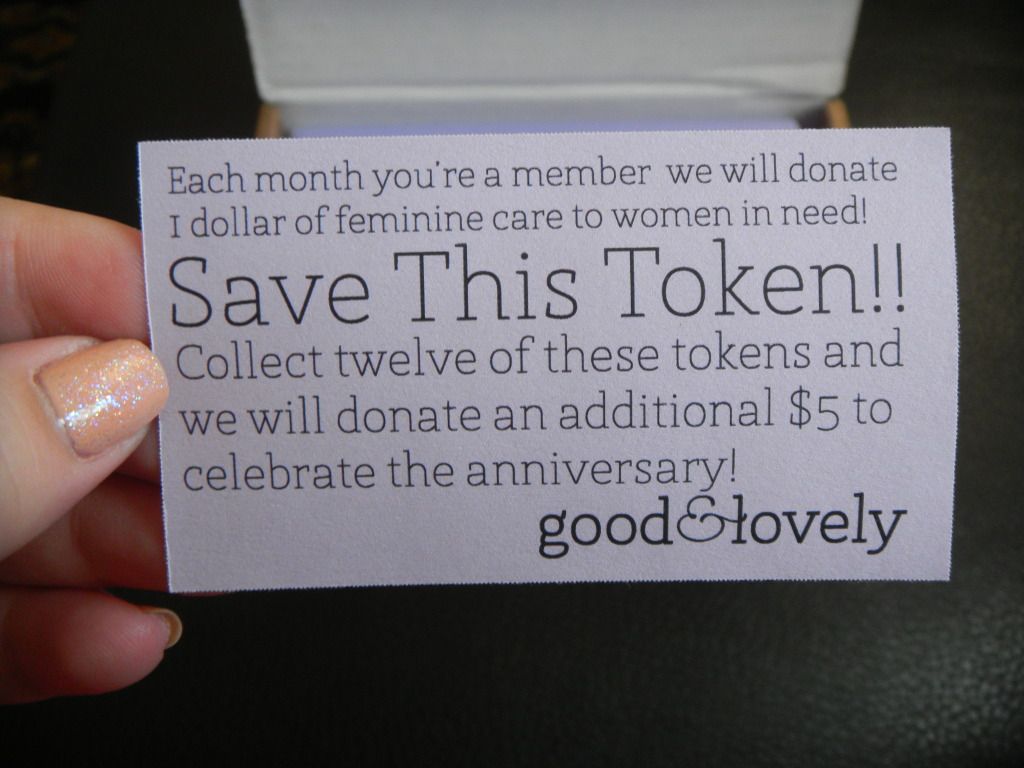 The next card was inside the box and under the tissue paper. This is a card that let you know that for every box purchased, $1 is donated to provide feminine care items to women in need. Once you collect 12 of these cards (1 year worth) they will donate an extra $5.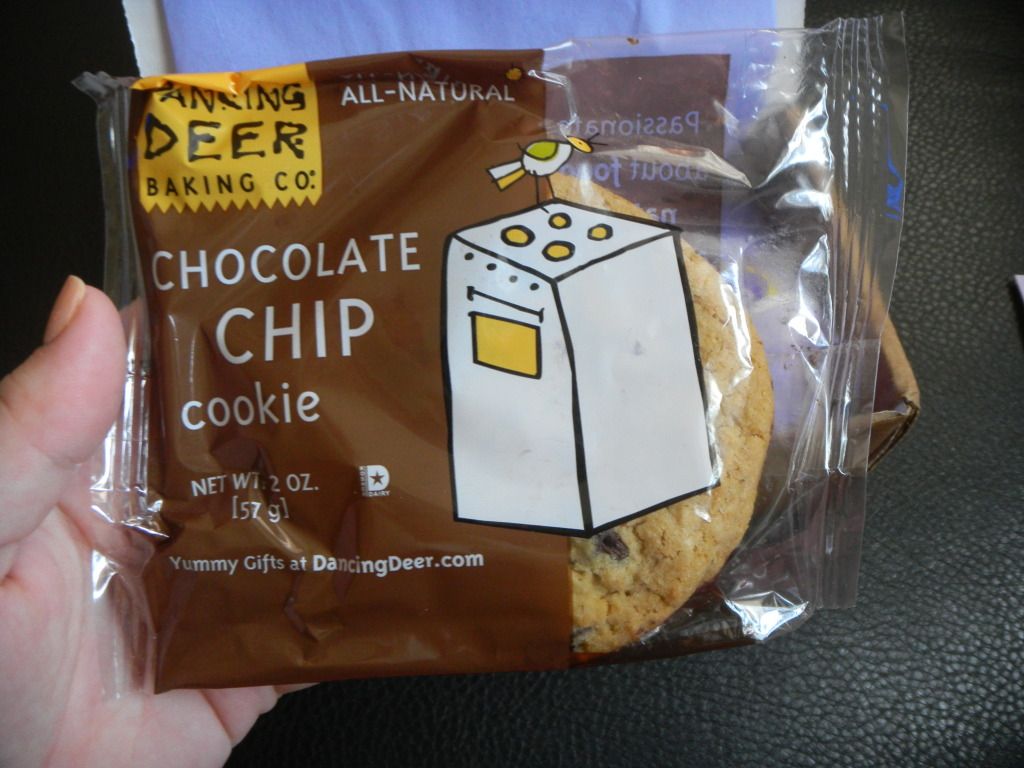 The first thing I pulled out was this all-natural Chocolate chip cookie by Dancing Deer Baking Co. I let my husband try this, hoping to get a bite. He ate the whole thing. I decided not to say anything (I get my fair share of sweets) and he informed me that it had crossed his mind to share- " but it was too good." Fair enough. A box of 16 sells for $22.99 making this a sample value of  $1.44. I have seen in previous months, there was always chocolate but with this heat it would be impossible to ship the solid chocolate pieces they have in the past- I was glad they found a way to include some chocolate anyway.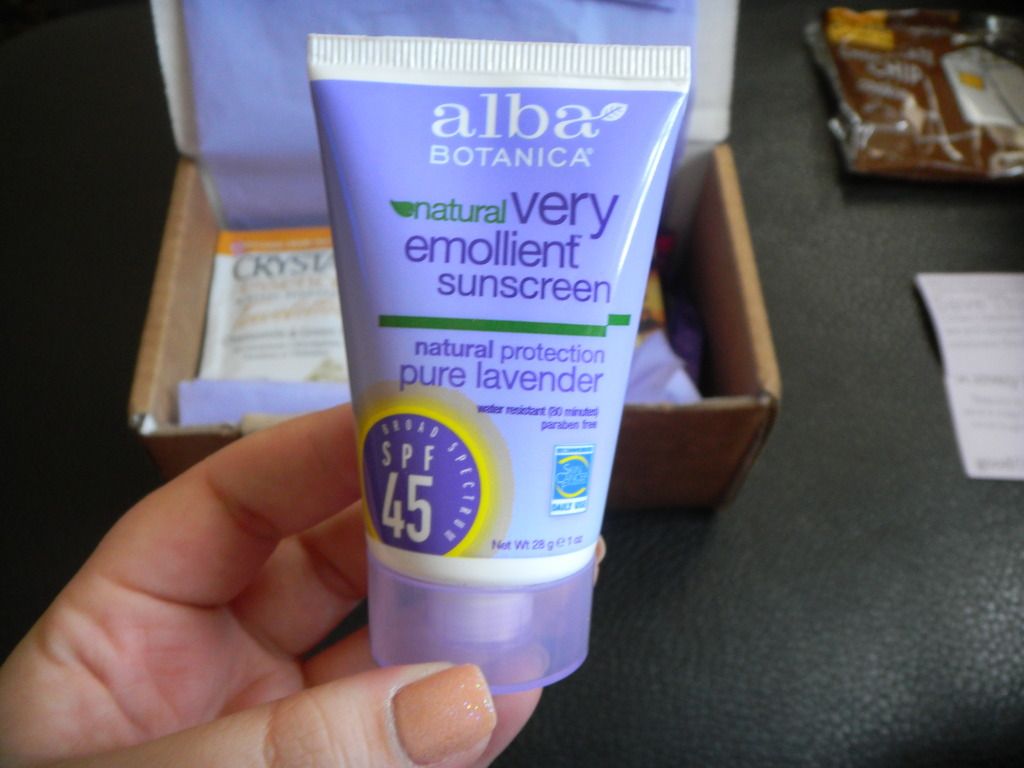 Next was a summer essential. Alba Botanica's Natural Very Emollient Sunscreen in Pure Lavender. This is wonderful sun protection with SPF 45 (broad spectrum protection). I really enjoy the way this sunscreen smells, while the heavy smell of SPF always hovers over, the soft powdery lavender scent of this still shines through. This 1oz size sells for $3.95
Next was Crystal Essence Mineral Deodorant Towelettes. These are really nice and I'll look forward to throwing these into an "emergency" or travel bag. These are meant to prevent body odor all day and contain no aluminum or other nasties that your body easily absorbs. a 6-pack of these retails for $2.99 making this a sample value of $1.50
We also got skin care samples from Nature's Gate. This is a new vegan company that I've been hearing pretty good things about. Even though this is a foil sample packet- these are very nice sized samples, I'll be emptying these into some screw top jars once I open them. The eye cream sample is worth $1.80 and the night cream is worth $.85
Now….I need to back-track on something. Haha. I AM sick of seeing Mighty Leaf, but this tea- smells SO good. The scent is Calypso Mango and I cannot wait to try it! A box of 4 of these bags (which makes a half gallon) sells for $6.25 making this sample worth $1.56
And last was a bag filled with products from Tampax. There is one pad, two tampons and three panty liners. This bag was actually offered as a freebie a while back and I picked one up. I ended up giving it away so I was glad to get another. It's a cute bag to have in a pinch and it's discreet enough to take to a trip to the bathroom anywhere. I can't put a value on this exactly, but it's a really nice touch.
The value of the box is certainly there, totaling $11.10 not counting the bag and it's contents that are certainly worth a few dollars. Getting this box was an instant pick me up even though I received it the last day of my week, I think it's a great way to have a little pick me up between the midol and bubble baths.