Well…it takes a lot for me to dislike a company as much as I dislike Glossybox right now. So, even if you don't want to read it, I'm going to tell you all why. It all started the first week of July when I saw everyone on Facebook complaining that Glossybox had already billed them. I waited a few days before emailing Glossybox to ask why I hadn't been billed. After 6 days- they let me know that my credit card on file was declined. I knew that my previous credit card had been cancelled and we had I updated my credit card information right away and was told I would be billed on the 23rd and that my box would ship the following Friday (the 27th). I was billed on the 25th and my box was shipped on August 8th…to add insult to injury, my shipping email stated that my "July Replacement box was on it's way"…replacement? Really? That would mean that an original box was ever shipped in the first place- which never happened. During this whole process, I was not once apologized to nor offered any sort of compensation for the errors on Glossyboxes end- that is until I sent a stern email letting them know that I would like more done for me. I was then apologized to…I sent a second email letting them know that frankly, that wasn't good enough. I got a reply after a few days:
"I am so sorry that you have been having such a bad experience with your July GLOSSYBOX. We will be sending you a few goodies in the mail as soon as we can. I sincerely apologize for the inconvenience, and thank you for bringing this matter to our attention." So, if this happens, I would honestly be happy with that solution. I think, personally, that this box should have been free. Nonetheless, I am giving them the chance to send the box and 3 days ago I was billed for August…we shall see. Like I said, it takes a lot…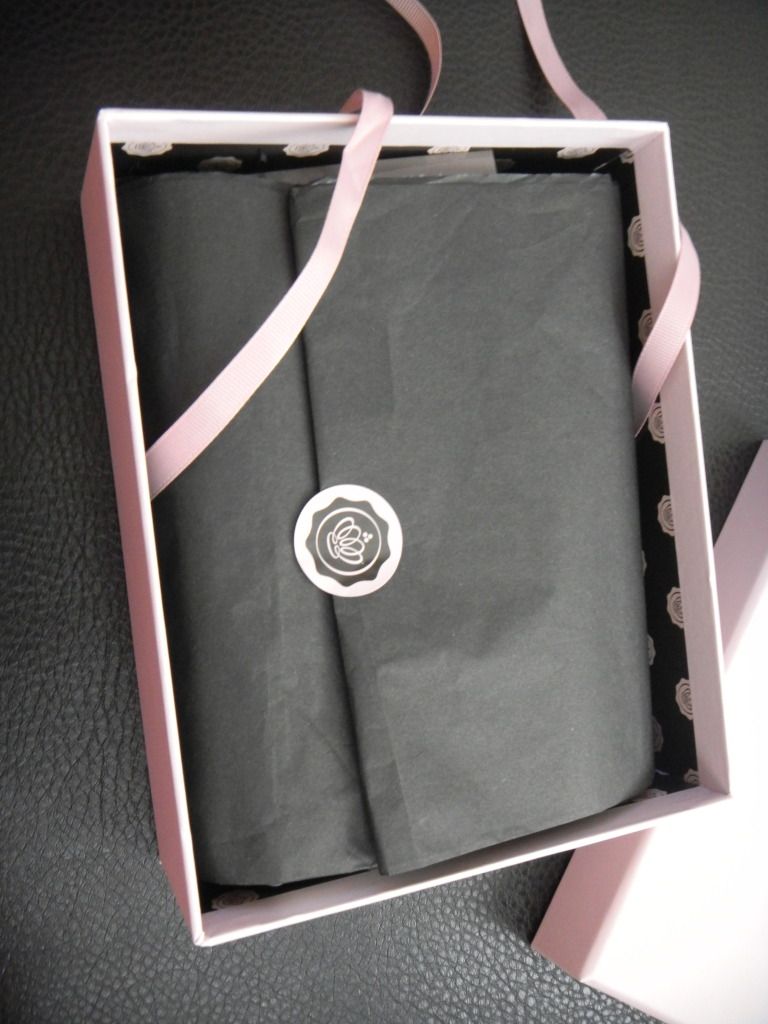 So, on to a review- as unbiased as possible. I got the same beautiful pale pink box, nicely wrapped in black tissue paper, a crown "seal" (sticker) and a bow. Because Glossybox doesn't have their name on these boxes they make wonderful gift wrap. I've saved all my boxes and plan to use them for gifts for the lovely ladies in my life this Christmas.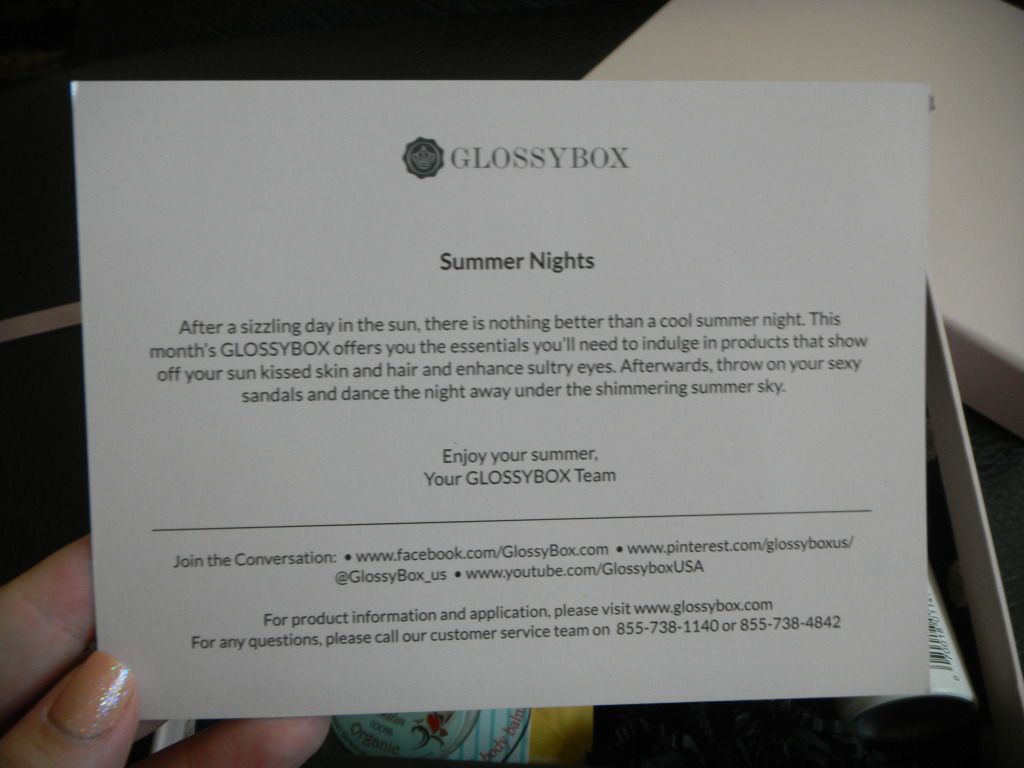 July's theme was Summer Nights.
On the reverse is a list of the items included. There were five products (two of which are full size) and a bonus item as well.
Going down the list, first is Alessandro Internationsal Pedix Feet Heel Rescue Balm. It has a peppermint scent, like a lot of foot products do. I'm in need of a pedicure and am actually having a mani/pedi  party this weekend with some girlfriends so, I'll be trying this then. I am a little confused about the availability of this product because you cannot purchase this in the US- when you go to their site and choose North America, it only shows placed for Canada. So, I'm hoping I don't love this. A full size at 100ml is $18.50, making this 30ml sample worth around $5.55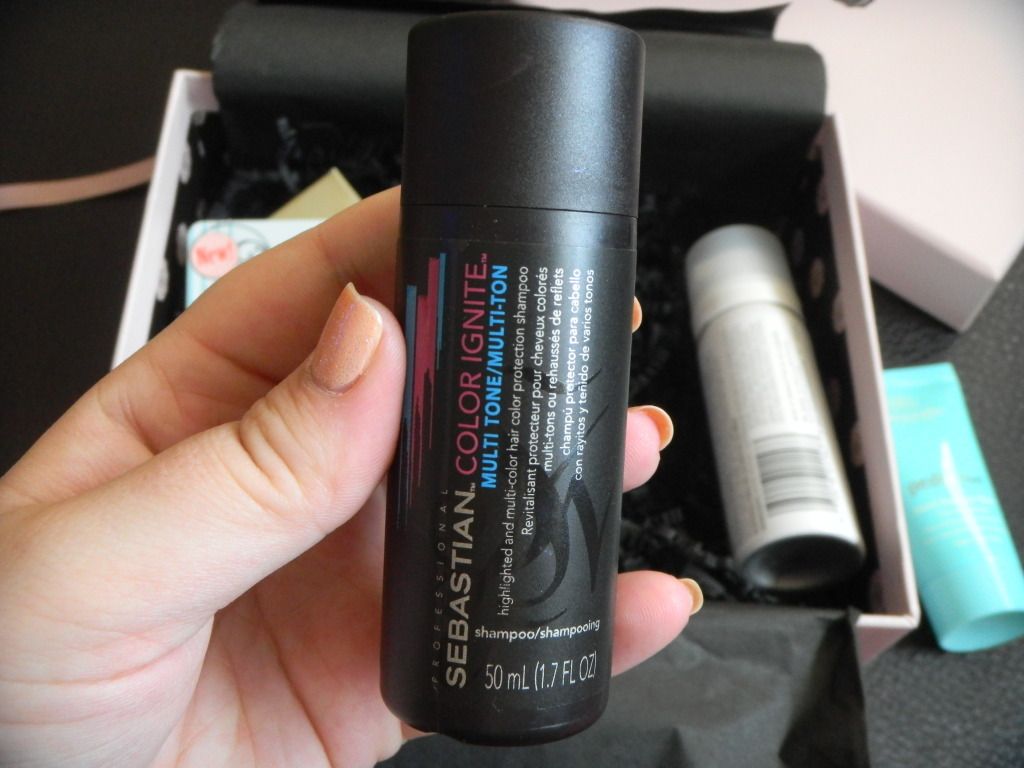 Next was a shampoo sample from Sebastian. I've heard great things about Sebastian so I was excited to see this on my card. It smells SO good. The full size of this is $14.95 making this 1.7oz sample worth $3.26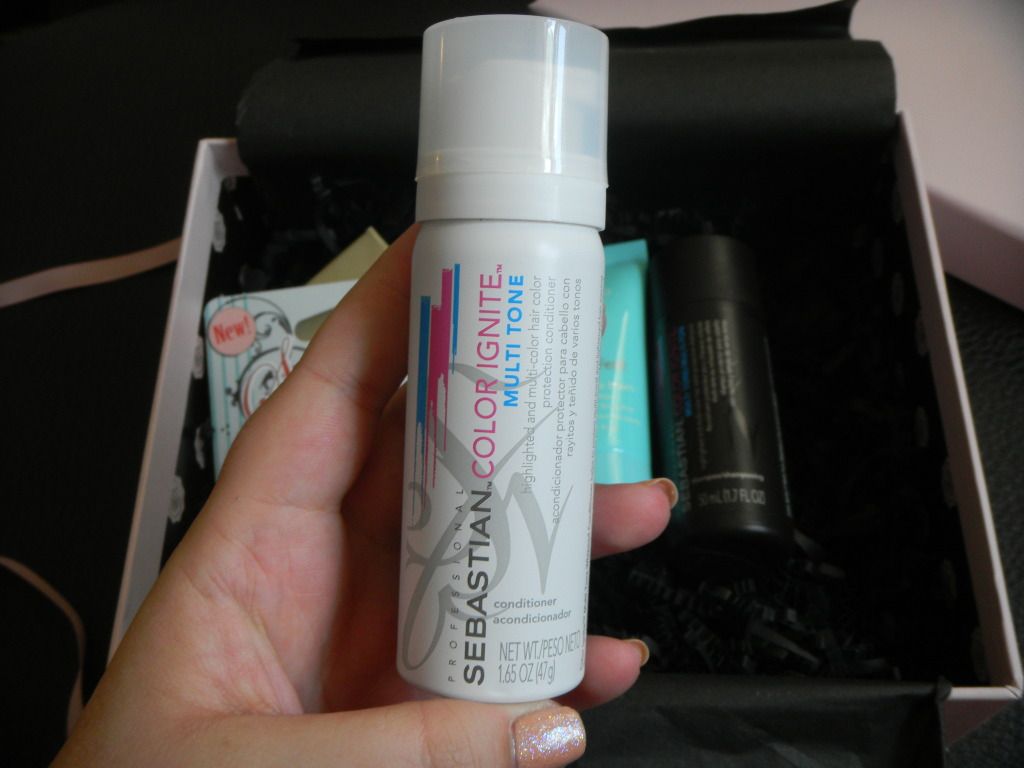 And, like a breath of fresh air, they included the conditioner too. I know I'm not the only one that gets frustrated when you only get one or the other. This condition is different because it is in a metal can and it comes out like a foam. Because I'm the last to get this box, I heard from others (namely Erica from Erica's Primp & Polish) that this does not hold to your hair so doesn't get the chance to condition it. Bummer. This sample is worth  $4.21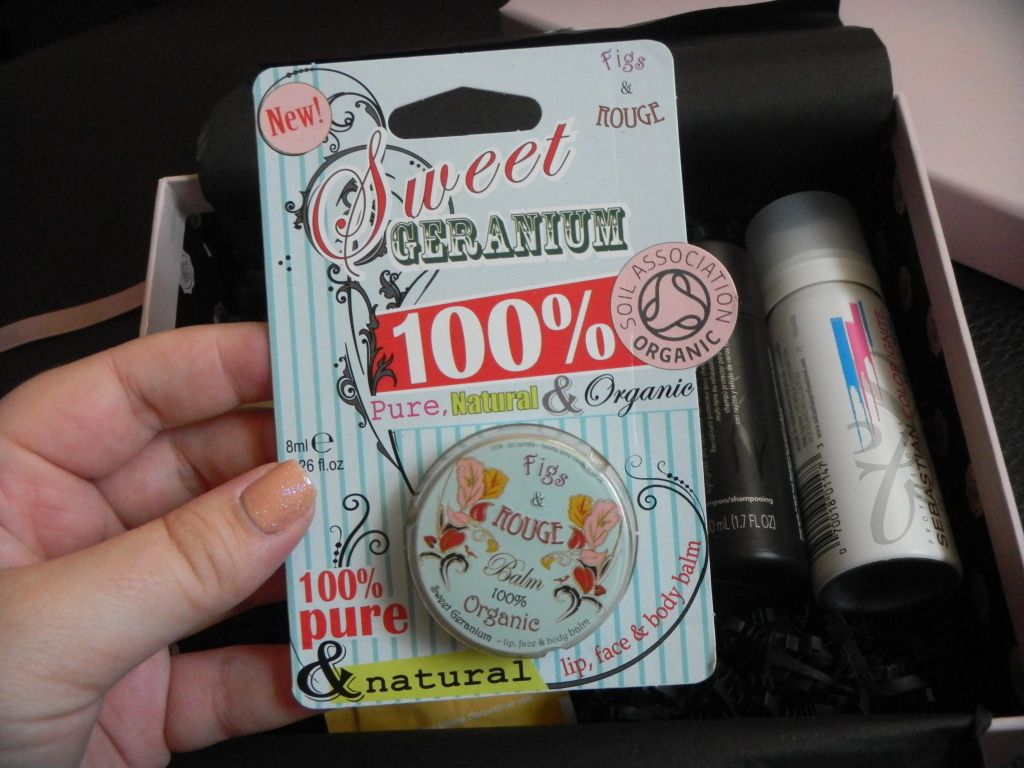 Next was our first full size product. This is a new product from Figs & Rouge and it's their Sweet Geranium lip, face & body balm. I heard wonderful things about this products but I am not sure if it's for me. It smells nice but it is so floral that my first thought was I might not want it on my lips. Once I dipped into it I realized it was SO oily. Like vaseline but even thinner. I tried it on my lips but I'm not seeing any amazing results right away. I'll try it a little more before I have a final verdict. I love that they went with an organic, natural product. This is full size and retails for $6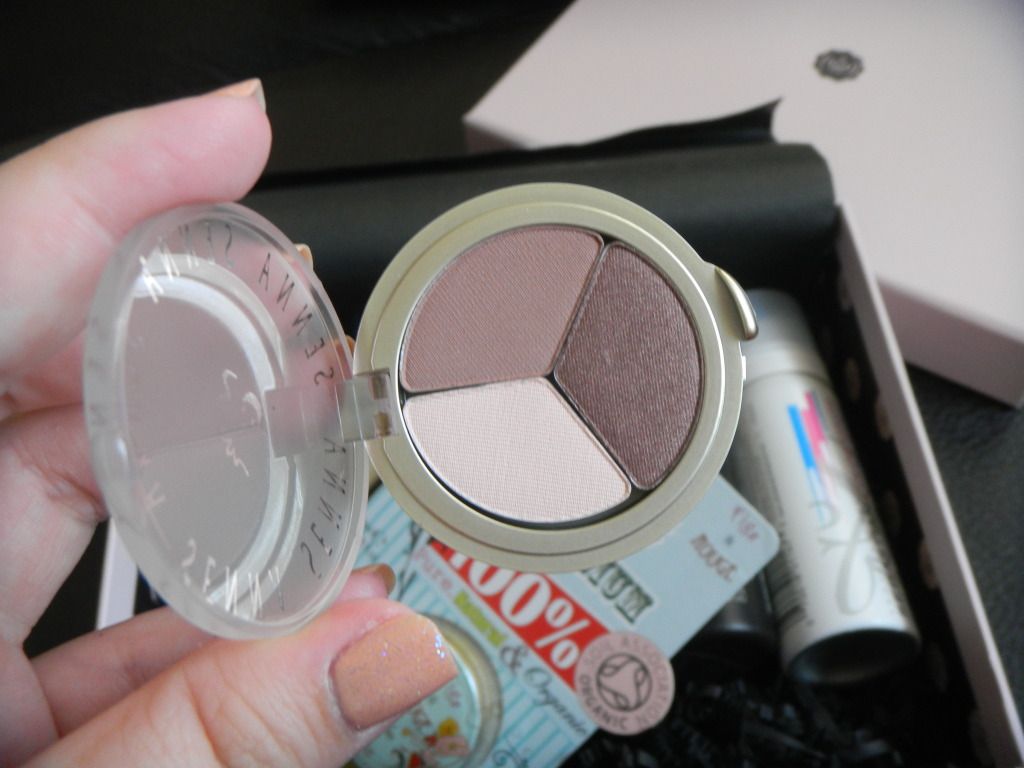 Next was the other full size product and it is an eyeshadow trio from Senna Cosmetics. I was happy to see this and in a very flattering color assortment. This trio is called Satin Doll, on their site it is described as "matte light pink and rose with metallic warm plum" This retails for $24 and essentially pays for the cost of the box.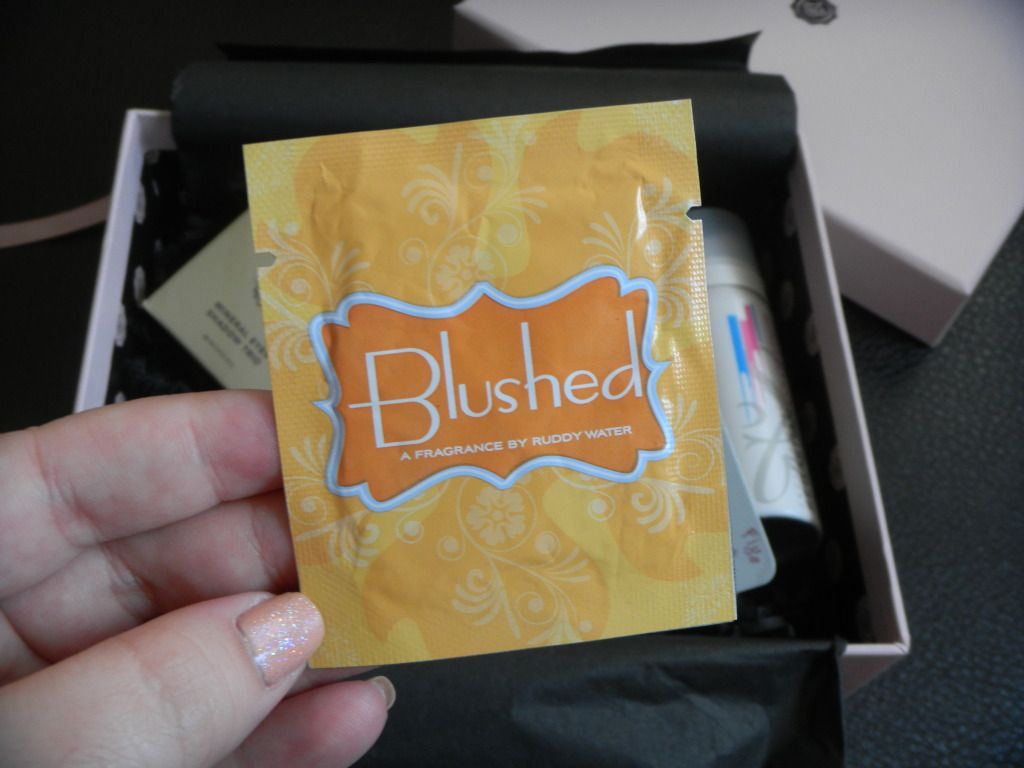 Our bonus this month was one I had to giggle at a little bit, not because it's not a product to be taken seriously, but because of circumstance. This is a toweled packed with a warm vanilla like scent. It's vanilla, but there is so much more to it, so I hit the web for a more accurate description "Featuring notes of bright red currant and rich vanilla, wrapped around subtle sweet lemon, slightly spicy ginger, and kissed with a hint of sugar"- yep, sounds right 🙂 This is a night smell and I think of all the items, it reminds me of Summer Nights the most. I look forward to wearing this to an evening BBQ or get together with friends.This has a sample value of $.92
Over all, the value of this box is $43.92- pretty consistent with previous months. My problem is that I often get this value out of my less expensive boxes, like MyGlam OR I get even more of a value out of my boxes that are just a few dollars cheaper, like Sample Society. So far, Glossybox is the most expensive for no good reason. They don't have exclusives, or later samples, etc. The one thing that can be said this month was they included a full sized eye shadow trio and I've never seen that done, but not everyone received it.
I'll be updating you all on Glossybox and whether they stick to their word about making it up to me for the terrible customer service. How has Glossybox been for you?